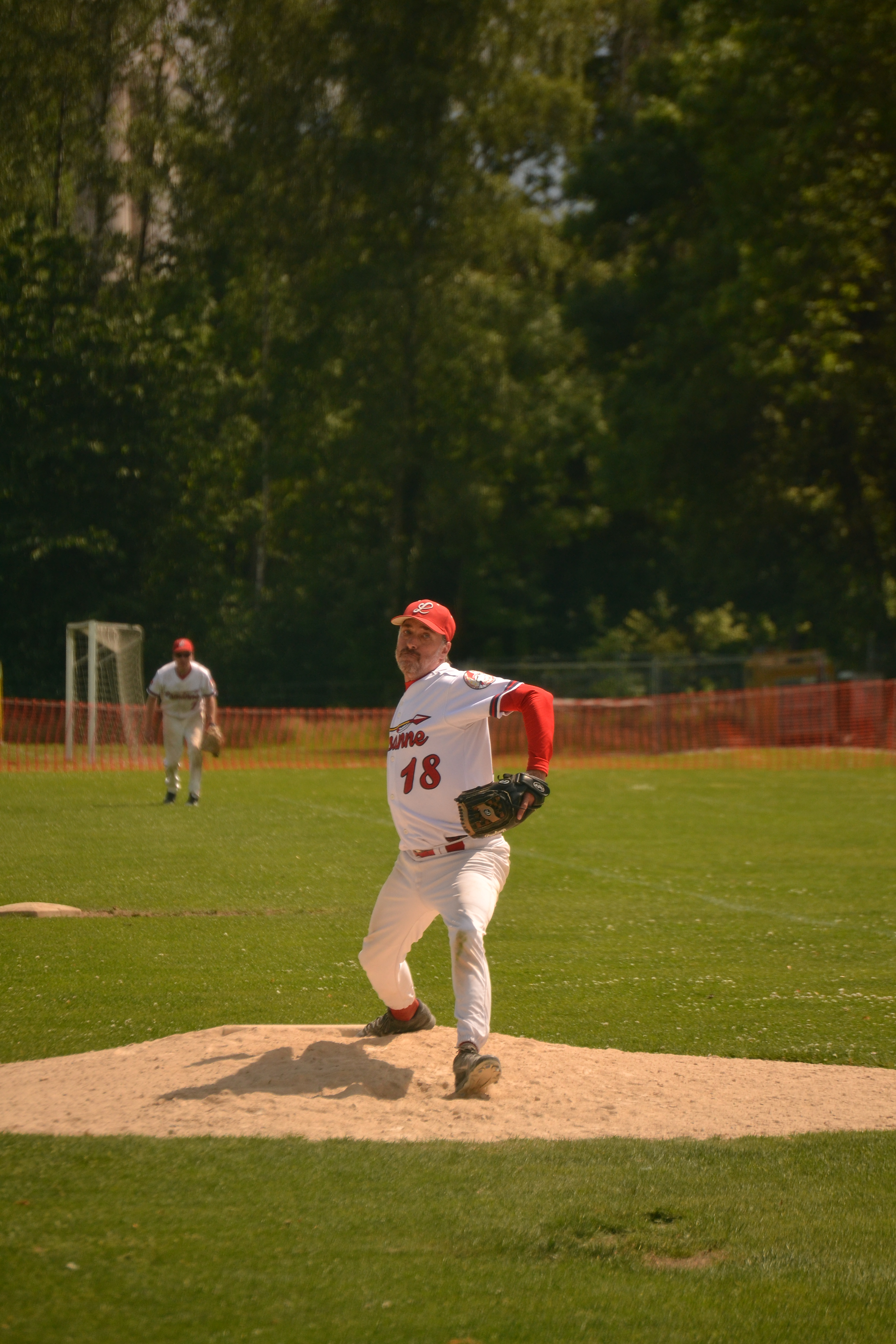 What's your name ? Dan Draper
Where do you come from ? Boston, Masschusetts, USA
Age, height, weight ? 48 years, 1M78, 76.5 kg
Tell one of your passion in life ? my family / ma famille
What's your favorite movie about baseball ? The Bad News Bears (1976)
One good point and one bad point about you in life ? organized / I love to swear / organisé / je jure beaucoup
Let's speak about the field, let's speak about baseball :
How did you get into baseball ? Watching my brother playing when I was very small / Je regardais mon frère jouer quand j'étais tout petit
How long have you been playing baseball ? Since I was 5 years old / Depuis l'âge de 5 ans.
Tell me about your career playing baseball ? I played Little League from 6 to 13 years old, then played Babe Ruth when I was 14. Did not play when I was 15 or 16. I played Senior Babe Ruth when I was 17. Did not play from 18-23 years. I played softball from 24-36 years (slow pitch, modified and fast pitch). I did not play again until 2014 when I joined the Indians and have played with them ever since. / J'ai joué dans les ligues juniors de 6 à 13 ans, puis dans la ligue Babe Ruth à 14 ans. Je n'ai pas joué de 15 à 16 ans et j'ai joué dans la ligue Seniors Babe Ruth à 17 ans. Je n'ai plus joué entre 18 et 23 ans, puis j'ai joué au softball de 24 à 36 ans (slowpitch et fastpitch). Ensuite, je n'ai plus joué jusqu'à ce que je rejoigne les Indians en 2014.
Which position(s) did you play and are you playing now ? I have played everywhere except catcher. Now I play 1st Base, outfield and pitcher. / J'ai joué toutes les positions à l'exception de catcher. Maintenant, je joue 1è base, outfield et pitcher.
Which position do you prefer ? Pitcher
Tell me one of your quality and one of your defect in baseball ? I understand the game. Sometimes I rush to make a play and make an error instead. / Je comprends bien le jeu. Des fois, je me précipite trop et commets des erreurs.
What's your jersey number ? 18 (the days my daughters were born 2+5+11 = 18) / 18 le total des jours lors desquels mes filles sont nées : 2+5+11 = 18
What's your favorite team and player ? Red Sox, Luis Tiant
What's the main team's objective ? To be above .500 in our first year in the Swiss NLB / Rester au-dessus de 0.500 de victoires pour notre première saison en LNB
What's your personnal main objective this year ? To continue to improve my pitching / continuer de m'améliorer au pitch.
What's the play you're dreaming to do in a game ? Pitch a shutout in the championship game / lancer un shutout en match de championnat (ndlr: quand l'équipe adverse ne marque aucun point)
What's your greatest memory in baseball ? Coming in to pitch with the bases loaded and no outs in the Championship game and getting out of the inning only giving up one run. / Prendre place sur le monticule avec les bases pleines et aucun retrait en match de championnat et terminer la manche en n'encaissant qu'un seul point.